Premium Dubrovnik – Split Island Hopping Tour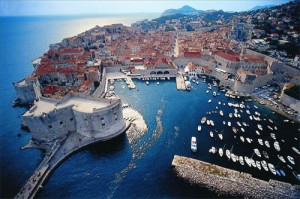 Cruise the magnificent Dalmatian coastline and islands with this great Croatia Sailing Tour. The route: Dubrovnik – Mljet – Mljet – Korčula – Split – Hvar – Šipan – Dubrovnik
On this great Croatia boat holiday itinerary you'll embark on a journey around the picturesque Southern Dalmatian coast. During the day you will be swimming in the blue seas, soaking up the sun, enjoying a cold beer and simply relaxing. Every evening your boat will port in a different beautiful Croatian town so you can explore the rich history, local cuisine and great atmosphere. From swimming in the blue seas of the Adriatic to the natural and historical wonders of the region, this Croatia cruise holiday promises an amazing holiday.
Sunday DUBROVNIK
The starting point of your Croatian sailing holiday is the jewel of the country, Dubrovnik. The first night will be spent in this beautiful medieval town. You can find traces of the Renaissance era and also Gothic style structures scattered all around the city. It's your chance to get a glimpse of this gorgeous town before setting sail.
Monday DUBROVNIK – MLJET
Our next stop is Mljet. Here you can visit the salt lakes in the peaceful Mljet National Park. A monastery and a church on St. Mary Island are on the list of attractions too. If you want to cover more ground you can hire bicycles and discover this stunning island while pedalling. The night will be spent in port Polača/Pomena.
Tuesday MLJET – HVAR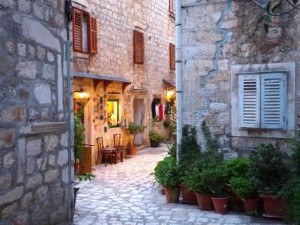 After a refreshing swim in the crystal clear waters of little Šćedro Island, we will arrive at the longest island in the Adriatic Sea, Hvar, also knows as the sunshine island. A renaissance era cathedral and the oldest community theatre of Europe, which was built in 1612, can be seen on this spectacular island. Hvar offers great restaurants, cafes, bars and a world famous nightlife.
Wednesday  HVAR – (BOL) SPLIT
The first stop today is the famous Zlatni Rat Beach (or Golden Horn), a stunning naturally formed horn of golden sand in turquoise waters.  In the late afternoon we arrive at Split, a UNESCO World Heritage site. A place of historical and cultural importance as well as a thriving maritme and university town.  There's a chance to join a tour of the Roman Diocletian's Palace.
Thursday SPLIT – KORČULA
Next stop is the birthplace of Marco Polo Korčula Island. The town of Korčula dates back to the 13th century. Korčula, surrounded by medieval walls and fortified bastions, offers a spectacular atmosphere. After sightseeing you can try one of the many restaurant by the sea. If you want to experience proper Dalmatian cuisine you can try a konoba.
Friday KORČULA – ŠIPAN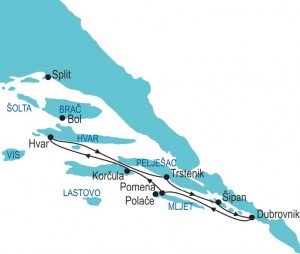 Next en route is the island group Elafiti whch consists of Lopud, Šipan, and Koločep (Kalamota). They are famous for their sandy beaches and amazing scenery. The night will be spent in the biggest of these islands, Šipan.
Saturday ŠIPAN – DUBROVNIK
On Saturday we're back at the jewel of Croatia, Dubrovnik, which was described as "heaven on earth" by the famous writer George Bernard Shaw. We will arrive at the town in the afternoon so you have plenty of time to explore this gorgeous medieval Croatian city. You can opt for a guided tou  r if you like. For some spectacular views of the old town an optional cable car ride up to the Srđ mountain is available as well. We recommend a walk through Stradun and on the famous city walls. Dubrovnik is one of the 10 best preserved medieval walled cities in the world.
Sunday DUBROVNIK
After enjoying your final breakfast on board your Croatia cruise comes to an end. You'll disembark with an air of relaxation and head full of memories.
TOUR DATES & PRICES
BOAT FEATURES
OPTIONAL SERVICES
OPTIONAL EXCURSIONS
SAIL & STAY
TERMS
Departures
Below Deck / Main Deck
13 Apr to 27 Apr / 28 Sept to 12 Oct

£595

 / 

£625

4 May to 25 May

£645

 / 

£680

1 June to 8 June / 21 Sept

£675

 / 

£735

15 June / 31 Aug to 14 Sept

£760

 / 

£815

22 June / 17 Aug to 24 Aug

£815

 / 

£865

29 June to 10 Aug

£835

 / 

£895
- Minimum  
£150
 prepayment is required for reservation.
- Departures are on Sundays from Dubrovnik. Check in from 1pm.
- Prices are per person sharing a double cabin
- Prices include 7 nights / 8 days half board accommodation.
- Port Fees and Visitors' Tax aren't included. Paid on the spot. EUR 40 pp per week.
- Guided tour of Dubrovnik is included in the price.
- Single supplement 50% extra (subject to availability)
- Check out the Boat Features tab for more info about cabins.
- Flights aren't included (can be arranged on request).
Category A+
Our A+ category boats are newly built. They offer plenty of deck space and an indoor saloon area for you comfort. Cabins are spacious and come with an en-suite bathroom and air-conditioning. A+ boats consist of a mixture of double bed and twin bed cabins.

---
Category A
A category boats are for those who'd like to try the authentic Croatian sailing experience. These vintage wooden boats offer spacious cabins with an en-suite bathroom.

- Entrance to National Parks: Prices range from EUR 10 – 15 pp, depending on the season and park
- Full Board supplement: EUR 115 pp per week, min.10 pax required.
- Drink supplement: EUR 16 pp per week – includes a drink with lunch – a glass of wine, a beer or a soft drink
- Water supplement: EUR 20 pp per week – includes 1,5 l. of water pp per day – to be paid on the spot
- English Breakfast supplement: EUR 40 pp per week – includes 2 eggs, bacon, tomato and mushrooms or yoghurt with fruit or similar. Regular continental breakfast included in the cruise price includes: coffee, tea, milk, juice, cereal, bread, a variety of spreads – butter, jam, honey, soft cheese; and daily additions such as ham and cheese or boiled eggs, frankfurters, salami etc. (hot & cold breakfast included on A+ ships)
- Captain's dinner: EUR 25 – choice of fish or meat dish – ship's speciality served (included in price on A+ vessels)
- Wedding renewal package: EUR 100 per couple – includes renewal ceremony performed by the captain, certificate, champagne and gift
- Extra towels: On A & A+ category ships, guests will be provided with two towels for personal use for the week. Extra towels can be rented for EUR 3 & beach towels for EUR 5 per week.
- Daily cabin cleaning: EUR 15 per person per week – included in the price for A+ vessels – not provided on A and B category ships but can be ordered in advance
- Parking can be arrranged from EUR 10 daily
- Airport transfers: EUR 40 from Dubrovnik airport. Other transfers are available on request.
- Accommodation such as villas, hotel can be arranged on request for before or after cruise.
- Ferry Tickets: Cabins, seats or deck, available for coastal & international ferry connections
MONTENEGRO – EUR 52 per person
Visit Montenegro where you see mighty mountains towering over the Adriatic Sea and where natural beauty mixes with history. Montenegro excursions are organized before your boat cruise on Saturday or afterwards on Sunday. Passport required.
DUBROVNIK CABLE CAR – EUR 13 per person
Enjoy the spectacular views of the Dubrovnik old city from Srđ Mountain.
SEA KAYAKING AROUND DUBROVNIK CITY WALLS – EUR 30 per person
Sea kayaking around Dubrovnik City Walls is a once in a lifetime experience. You can get a one or a two seater kayak and paddle around medieval history.
MOSTAR – EUR 55 per person
Bosnia and Herzegovina's most beautiful city, Mostar, can be visited after your cruise ends on Sunday. In the historic city of Mostar, you can see the astonishing "Stari Most" (Old Bridge) built by the Ottomans in the 16th century. For this excursion you will need your passport.
KORČULA WINE TASTING – EUR 15 per person
Would you like to try some of the best Dalmatian and Croatian wines? Join us on this tour and discover the unique taste of Croatian wine.
KORČULA VILLAGE DINNER EXPERIENCE – EUR 27 per person
Experience the village life in Dalmatia. On this program, you get to try a typical Dalmatian dinner in a small village near Korčula and learn about the traditional way of life in the region.
OPTIONAL SIGHTSEEING TOURS (min 10 pax required):
Sightseeing Tours in Hvar, Korčula, Dubrovnik – EUR 10 per person per tour; 10% discount available for 3 or more tours booked in advance;
A+ ships have Dubrovnik tour included in the price.
Would you like to add a few more days to your holiday and discover Croatia on land as well as sea? In Croatia there are no limits. From culture and history to nature and nightlife. Extend your holiday and stay in one of our great selection of hotels to explore this magnificent country further. Let us know and we will find the most suitable hotel for your taste.
- Min GBP 150 prepayment is required for reservation.
- The remaining balance is to be paid 30 days prior to the tour date.
- In case of bad weather or sea conditions, for the safety and comfort of guests, your captain reserves the right to change routes entirely or partially.
- Gulet Escapes reserves the right to cancel departures if the minimum number of bookings haven't been made. Gulet Escapes also reserves the right to change the ship name if necessary.
- The guests who are found to be behaving improperly and distressing others will be asked to disembark.
- Check cancellation policy and all the other terms and conditions.
Please note: Due to port availabilities, at some ports tour ships are moored side by side which makes it necessary for our guests to cross from one ship to another at their own risk to reach the port and when they return to the ship. Please take extra care and ask for assistance from crew.