Bodrum – Gulf of Gökova – Bodrum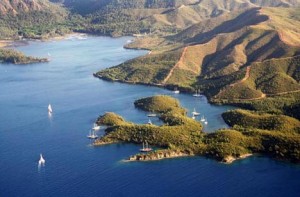 Tranquil coves and turquoise seas.  The Gulf of Gökova is an idyllic place to take a cruise and an area of stunning natural beauty.  You can enjoy the calm, green surroundings and plunge into crystal clear water from the deck of your boat.
Day 1 – Bodrum
Your Turkey gulet experience starts in Bodrum. After check-in at 3pm your time is free to explore the historic and charming town of Bodrum. Learn about the city's ancient past in Bodrum Castle and the Museum of Underwater Archaeology. Or stroll round the cool lanes of the old town and pick up some treats. Bodrum is also famous for its nightlife, so why not have a drink on the beach before heading back to your boat. The first night is usually spent in Bodrum Marina but, providing preparations are complete, our captain can set sail on the first day.
Day 2 – Orak Island – Çökertme
Start as you mean to go on! Your journey starts with the crystal clear waters and quiet coves of Orak Island. In the evening the boat anchors near Çökertme, where you'll relax and dine surrounded by pine trees and olive groves. You'll soon become accustomed to the utter peace and tranquillity of Gökova.
Day 3 – Çatı – Seven Islands (Yedi Adalar) – Long Harbour (Uzun Liman)
Set sail across the gulf to spend a relaxing morning in splendid Çatı. After breakfast the boat works its way down the coast to Seven Islands, where you can snorkel round clear waters or head ashore to take a walk through the cool forest. The evening is spent in Long Harbour.

Day 4 – Tuzla – Löngöz – English Harbour (Ingiliz Limani)
By now you've reached peak relaxation mode. Celebrate by plunging into the glistening turquoise water of Tuzla Bay. After this your captain sails to Löngöz, where you'll enjoy the stunning nature and fragrant pine trees. Evening is spent in English Harbour.
Day 5 – Cleopatra Island – Karacasöğüt
According to legend, Cleopatra Island was the secret meeting place of Antony and Cleopatra and it is said that Antony brought white sands all the way from Egypt to please his lover. On a visit to the island you can enjoy the soft sands and incredibly clear waters of Cleopatra Beach and see the theatre, agora and ruins of the ancient city of Kedriai. After this, drop anchor at Karacasöğüt for the night.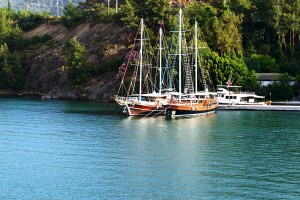 Day 6 – Kargılı – Kisebükü
After a dip in the cool waters of Kargılı, sail to the sweeping bay of Kisebükü. Here you can go ashore and explore Byzantine ruins or pootle around in the shallows, before heading back to the boat for an evening in this beautiful bay.
Day 7 – Pabuçburnu – Yalıçıftlik – Bodrum
Enjoy a final day swimming in the clear waters surrounded by nature. The tranquil and beautiful surrounding of Pabuçburnu and Yalıçıftlik are the perfect end to a perfect week. You can choose to spend your final evening in a cove near Bodrum or in the Marina.
Day 8 – Bodrum
After enjoying your final boat breakfast, you'll disembark at 10am with an air of relaxation and head full of memories. The perfect end to your Bodrum holiday and Turkey gulet cruise.
Please note: In the case of bad weather or sea conditions, for the safety and comfort of guests, Gulet Escapes reserves the right to change routes entirely or partially.