Testimonials
Some esteemed visitors…
This year we organised a family holiday for the British Foreign Secretary, Boris Johnson. Mr Johnson and family rented a gulet, a wooden sailing boat designed for leisurely cruising along the Turkish Riviera. They visited many secluded bays and islands, some of which are only accessible by water.
At the end of the trip the Johnsons told Ahmet Guler, Director of Gulet Escapes (picture left with Mr Johnson), that they saw many amazing places, ate delicious food and had an absolutely relaxing holiday. Mr Johnson thanked Ahmet for organising the trip adding everything had gone like clockwork. They clearly experienced excellent Turkish hospitality.
We would like to thank the Johnsons, who were very humble with the requests and very polite, which made it a pleasure to organise this holiday.
On press: Hurriyet Daily News
---
We were also happy to welcome a number of other high profiles guests including: fashion designer Alice Temperley, the musician Gary Numan, and two members of the House of Lords who were all extremely happy with their gulet trips.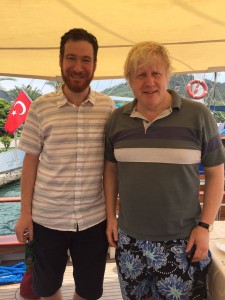 ---
A few quotes from our happy guests…
"Not long back from a 2-week holiday in Turkey with one week on the Gulet Seyhan Hanna and one week in a hotel, all organised very efficiently by Gulet Escapes. The boat is very comfortable, the food was great, all-in a very enjoyable trip. Would not hesitate to use Gulet Escapes again."
– Susie, October 2017 (Trip Advisor review)
---
"Went on a Gulet Escapes week trip through the northern Greek Islands. The whole experience was fantastic from booking with Ahmet through to the extremely friendly and accomodating captain & crew. Nothing was too difficult, with any drinks made when requested, dropping off to shore & pick up at any time, even did some skiing behind the dingy! The boat was spotless and the food plentifull & magnificant. This was our second Gulet trip, but the first through Gulet Escapes with this one being the better boat and experience of the two."
– Nick, October 2017 (Trip Advisor review)
---
"We have just got back from an absolutely incredible week cruising in the Dodecanese aboard a fabulous gulet, the Dolce Mare. Everything from the food to the captain and crew were amazing. Ahmet from Gulet Escapes did a simply great job organising the whole thing from start to finish. He was happy to meet up in London and explain about the various gulets and go through all the options. Once the booking was made, he was so professional from the paperwork, to making all the arrangements including organising a birthday cake, sorting out all our wine and drinks orders and generally assisting every step of the way to ensure it all went smoothly which it did without fault. I wouldn't hesitate to recommend Ahmet or his company, and would definitely use them again."
– Ali, October 2017 (Trip Advisor review)
---
"We recently spent a week aboard the Flas 7 motoring around thse North Dodecanese Islands.What an absoutely superb trip.The boat was incredible, the staff we wonderful, we had a great group of people onboard that we has not met before.Everyone got on famously, and made some great friends by the end of the trip.The food was amazing, everything was fresh and plenty of it.Drinks were supplied and if you wanted a beer for breakfast (it did happen) then you got one.Cannot fault the trip in any way. A big thankyou to Ahmet for organising our trip and transfers.We hope to come back and do it all again one day."
– Brett Polain, October 2017 (Facebook review)
---
"Have just come back and absolutely loved it. Gulet Escapes took care of everything, flights, transfers and it all ran extremely smoothly.We stayed on board Gulet Alba in Croatia. The crew and Captain are fantastic and Alba is stunning. The Captain helped us choose our route and took us to some stunning bays, tranquil coves and picturesque villages.
Would highly recommend the whole experience."
– Martin, September 2017 (Trip Advisor review)
---
"Just to say once again that we had a wonderful time on Diva Deniz Gulet last week. We thoroughly enjoyed our cruise around Montenegro, and all of the associated experiences. We were very well looked after.
Also, your arrangements re the transfers and border crossings (apart from what you could not foresee in terms of border control silliness) were all excellent!
Thank you very much again, we will recommend you to our friends, and will certainly use you again if we come back to the Eastern Mediterranean"
– Jonathan, August 2017 (Trip Advisor review)
---
"We have just returned from a weeks holiday along the Turquoise coast in Turkey aboard the Gulet Maske. It was a totally outstanding experience!
Let me start with Ahmet, from the London based company Gulet Escapes, who we booked the holiday with. His attention to detail and organisational skills are second to none. He never missed a beat, from sourcing a special birthday cake to arranging transfers and ensuring we had a great itinerary, Ahmet did it all. Many thanks.
Then there was the boat, a gorgeous sleek white Gulet, just a few years old, that had the most superb accommodation. Well appointed cabins with air conditioning and lovely en-suites made even more special with lots of storage and great lighting. On deck were sun mattresses and comfortable seating. Murat, the chef served up delicious meals every day, breakfast lunch and dinner. The crew, Aki and Ali attended our every need and nothing was too much trouble. Finally Captain Emre, someone who really knows his stuff and especially how to run a boat for the benefit of his clients. His advice, help and assistance made the week. Many thanks to you all.
Have I any complaints, yes I have! It was all over far too quickly so to resolve the problem we are going to go back to Gulet Escapes next year and do it all again. Get the mint ready for the Gin fellas and find us another great cove or two to enjoy the sunset. A really big thank you from the Whoop-whoop crew!"
– July 2017 (Trip Advisor review)
---
Dear Ahmet,
We've been intending to write to you, but believe it or not, we've had quite a busy schedule at home since we returned. We also wanted to take the time to write something meaningful since that is what our experience deserves.
The Alba itself met and even exceeded our expectations. It is spotless and beautifully maintained and outfitted with every convenience and comfort. We found shade when we wanted shade, we had sun when we wanted sun, and in every instance we settled into a perfect environment. The scenery was spectacular, the weather was perfect, and it was impossible to have scripted a more memorable vacation.
The Alba crew could not have been more extending and hospitable in the service they provided us. Each morning Captain Mirko shared the area map and reviewed the details of the upcoming day's journey and offered us numerous choices as to what we might want to do. It made us feel that we had significant input in the outcome of each day. Each morning Samir, the chef, asked me what sort of food we wanted and allowed me to help plan the menu. He and Captain Mirko then went out and shopped for freshly caught fish and produce to present us with abundant and delectable meals. Katarina and Vinco were warm hosts who maintained our cabins, supervised the water activities, took us on tours of the islands, and made us feel very comfortable. Their camaraderie among themselves and friendliness towards us completed our wonderful experience on the Alba.
Harry, Joan and Emily Dannenberg (Email feedback)
---
Ahmet:
My wife and I fully agree with and endorse the message from the Dannenbergs. One of our most pleasurable times was when Captain Mirko concluded that there was enough wind to actually set the sails, turn off the engine and sail for awhile. It was an extra added attraction which made the selection of the Alba all the more meaningful.
Everyone who has heard of our week aboard the Alba has commented on how unique an experience we enjoyed. Our words can only convey an overview of the many aspects of the boat, the crew, the sights, the ports and the restaurants carefully chosen by the Captain.
From the contractual standpoint, in dealing with you as the agent for and on behalf of the owner, all the terms and conditions of the arrangement were met. In this world, that is often not the norm and when it is, the result is all the more pleasant.
These customers are certainly satisfied.
Cordially,
Milo and Isabel Mandel (Email feedback)
---
"We have just returned from a one week charter aboard Seyhan Hanna sailing out of Fethyie, the whole experience was faultless, the Gulet is luxurious, the crew were superb as was the food.
Our thanks to Ahmet back in the UK for making all the arrangements and we can't wait to go back again at the end of the summer."
– Paul Bream, May 2017 (Facebook review)
---
"We had a fantastic holiday with Gulet Escapes. Everything was organised perfectly and it was such a wonderufl holiday! We'll definitely be using them again next year. I couldn't recommend them more highly.
As for the holiday itself, we sailed from Fethiye to Kalkan on Seyhan Hanna. We had such a lovely time.The crew and the food was amazing as ever. We had a few days in a hotel in Kalkan afterwards again organised by Gulet Escapes. And they even managd to get an upgrade on our hotel room. All round it was a fantastic trip.
Already thinking about next years holiday :)"
– Susie, November 2016 (Trip Advisor review)
---
"we've just returned from another brilliant Gulet holiday with Gulet Escapes in Turkey. Ahmet was most helpful in making the arrangements. The crew were great, food excellent, facilities good & the weather ideal. The boat had good facilities with plenty of room & the Captain found many ideal secluded bays to moor in peace & quiet."
– Rob & Angie, October 2016 (Trip Advisor review)
"We had probably the best Gulet holiday in 20 years, in September, with Gulet Escapes.
Great service from their UK and Turkisg offices. Great gulets and lovely food.
The captain & crew of The Nikola were the best we have ever experienced.
You will not be dissappointed!"
– Tim, November 2016 (Trip Advisor review)
---
"Another excellent holiday organised by Gulet Escapes. Following a fab holiday in Turkey last year we came back again to Ahmet who found us the perfect gulet in Croatia. A wonderful time was had by all 13 of us celebrating my mother's 80th birthday. Highly recommend!"
– Rachel Murray, September 2016 (Facebook review)
---
"Gulet Escapes booked our 10 day holiday in Croatia in September this year. Ahmet was patient and thorough – extremely helpful with all my enquiries and in customising our trip as we so wished. We spent one week on a Croatian cruise on the Fantazija, followed by a 4 night stay in a local hotel. The boat was clean and comfortable and the staff helpful and friendly. All the transfers between resorts were organised by Ahmet from London and went without a hitch. I will certainly use them again and thoroughly recommend them to others."
– Ness, Sussex, September 2016 (Trip Advisor review)
---
"Just returned from 2 weeks holiday organised by Ahmet at Gulet Escapes.
Flight/car hire/hotel/gulet/hotel/transfer to airport/flight.
Everingham went perfectly and Ahmet recommendations were excellent.
It easy to worry about little things such as the car hire guy or the location of the gulet … no need because the car hire guy was waiting for us with our name on his board and from there on on each company carfully passed us on the next. Luggage was carried for us and special requests catered for. With six different companies involved in providing our holiday this was probably the best organised holiday we have ever had.
I have no hesitation in recommending Ahmet and Gulet Escapes since this guy really knows the right organisations to work with and pulls them all together to make an excellent and worry free package."
– Terry, September 2016 (Trip Advisor review)
---
"Gulet Escapes arranged our charter of the beautiful gulet Euphoria this July/August 2016. I am pleased to recommend both Gulet Escapes and Euphoriia. Ahmet of Gulet escapes has excellent knowledge of the boat, crew and cruising suggestions both near Kas, and in the Dodecanese. The trip was beautifully arranged down to the last detail dovetailing in with flights and at a better rate than we thought we would get. First class service.
Euphoria is a beautifully appointed gulet with an excellent crew who could not have done more to make our trip memorable and enjoyable. Captain Hasan an excellent safe sailor with good knowledge of anchorages and the ports with first class seamanship. Orhan the steward a great arranger and extremely hard worker. Kenyan the chef prepared truly excellent meals the whole trip. Ali the last crew member incredivbly kind and thoughtful. An excellent trip"
– Andrew, August 2016 (Trip Advisor review)
---
Highly recommend using Ahmet with Gulet Escapes to book your gulet charter. Ahmet helped us book our 2 week gulet charter in Turkey this past summer. Ahmet was knowledgeable, attentive, and professional throughout the whole process. We had such a wonderful vacation, visited beautiful locations, and ate delicious meals prepared by the chef. From beginning to end the captain and crew were fabulous–we're already talking about booking our trip for next summer!"
– Yamia Miller Benhaim, August 2016 (Facebook review)
---
"Had a fanatastic cruise organised with Gulet Escapes at the end of July, chartering cabins on the Bodrum-Gokova cruise. The captain and crew where brilliant and the food amazing. The chef even made a cake for our son's 18th birthday! Having found Gulet Escapes through an Internet search, we were very pleased with the efficiency of their service, Ahmet's email responses being timely and helpful and would highly recommend them to anyone looking to book independently from a package holiday. Just a note, take your passport on board (as it was needed by the captain); we'd left ours at our Turkey home!"
– Sharon Froome, August 2016 (Facebook review)
---
"Hi – just back from a week in Croatia on the gulet Croatia, booked through Gulet escapes.
The week was fantastic ! We were an extended family of 9 all had a brilliant time and loved every minute. The gulet exceeded our expectations and we loved the spaciousness and numerous seating areas, as well as the very comfortable cabins. We really appreciated all the attention to detail from the crew – the gulet was kept immaculate at all times and the crew all clearly have great pride in it. A huge thank you has to go to Sinisa – the food was amazing and he did a wonderful job in creating so many amazing dishes in what was I'm sure a pretty confined space. Josef also did a fantastic job looking after us and we loved the way he anticipated what drinks we would like without even having to ask ! And Luka was brilliant too – always cheerful and smiling, especially when he was driving the speedboat when we were on the ringo ! Finally, we really appreciated Vladimir's (our captain) relaxed, friendly and flexible approach – he certainly let us do what we wanted and when, and it made it a very special holiday for us all, in particular for my father who was celebrating a special birthday, who I know had the best time possible. I would have no hesitation in recommending Gulet Escapes and the entire crew on 'Croatia'."
– George, Surrey, August 2016 (Trip Advisor review)
---
"Hello, Just had a fantastic Gulet Escapes Turkish gulet holiday with all the family. It all went really smoothly and the captain and crew were friendly and efficient. Ahmet in the London office also was very helpful and prompt with any questions. Well done Gulet Escapes!"
– Anne, Surrey, June 2016 (Trip Advisor review)
---
"A fantastic experience from beginning to end. Ahmet from Gulet Escapes really went the extra mile to ensure we had an excellent trip. He even rang the hotel where we were staying at the end of our cruise to secure a room upgrade. The Diva Deniz was superb and I would happily recommend it to anyone. The crew were extremely helpful and courteous. The accommodation and the food were both excellent. Altogether an very memorable holiday thanks to Gulet Escapes."
– Jane Livesey, June 2016 (Facebook review)
---
"We have just returned from a fantastic two weeks in Turkey, organised by Gulet Escapes. We broke two weeks at The Four Reasons in Yalikavak by having 3 nights away from the hotel on board Flach7 sailing east from Bodrum and visitng Sedir island and English Harbour.
It was the best holiday we have ever had in the Mediterranean! The hotel was excellent with super staff and the gulet was very comfortable. Highly recommended!!!!"
– Lee Scott, September 2015 (Facebook review)
---