About Gulet Holidays
What is a gulet? A gulet is a two or three masted wooden boat usually found in the eastern Mediterranean. Thanks to their spacious design and high capacity water and fuel tanks, gulets are ideal for tourist charters allowing trips up to two weeks and can accommodate as many as thirty people. Gulet holidays are traditionally called blue cruise.
Blue cruises can be whatever you want them to be. Discover the outstanding natural beauty of Adriatic with a Croatian cruise. Enjoy island-hopping in the Aegean with a Greek Islands cruise or Turkey cruise. Or explore Turkey's south coast with a Mediterranean cruise. You will find peace in isolated coves, snorkel among the sea life in crystal clear waters, visit remarkable ancient ruins, buy local produce in charming island-towns or live it up in the region's best night spots. You can even combine your boat holiday with yoga, trekking and diving.
Holidays generally start from a harbour town in Turkey, Croatia and the Greek Islands. The amount of time you spend sailing depends on the route you choose. Try to think about what you want out of your holiday. If you want to spend lots of time swimming then a shorter route is advisable. Alternatively, you might want to see lots of the sights or go island-hopping. Whatever you're after, we have some great itineraries available.
Food and drink is prepared by an experienced chef and served by the crew but you choose your menu and decide what you eat and when. Everything is in your control, so if you want ice cream for breakfast, that's allowed! The menu is agreed and food is bought beforehand so you don't have to think about a thing while you're on your voyage.
While each boat differs, there are some things they all offer: dining areas big enough for all the guests; en-suite bathrooms for each cabin; ample space for sunbathing on deck but also plenty of shaded areas; and the majority of boats have water toys, such as kayaks and snorkelling gear. Take a look at the listings and images under each vessel for more details on facilities.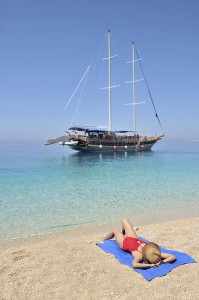 What's a gulet holiday like?
Here are some of the many reasons people choose to return year after year.
"There's nothing like jumping off the side of the boat into the cool sea when you first wake up!"
"It was so nice not to think about money. Usually group holidays involve splitting bills – who had a starter and how many glasses of wine did you have. I love that it was all sorted beforehand."
"I really enjoyed not wearing shoes for a whole week."
"The kayak was excellent. The water was so calm that you just glide along and it's so clear that you can see right to the seabed and all the fish swimming around. I even saw a turtle."
"The coast is so beautiful. I wasn't expecting somewhere so far south to be this green."

Why cruise the Eastern Mediterranean?
This region is rich in so many areas. The landscape is lush and green and the coast is largely undeveloped away from the main towns. Turquoise coves are host to a variety of sealife, including the irresistibly charming green turtle. And culture here stretches right back to the birth of civilisation and it has some of the most in-tact ancient sites in the world.
Useful things to know
There are two ways to book a boat holiday: Private Charter, where you book the whole boat for your group; and Cabin Charter, where you book a cabin and share the boat with other guest. Prices listed for cabin charter are per cabin, per night. Prices listed for private charter are per night for the whole vessel and the price remains the same regardless of the number of guests.
The season runs from the beginning of April to the end of October and high season is during July and August. Boats are only booked from Saturday to Saturday during high season (July and August). It might be possible to charter boats for different times during low season. Please contact us to discuss your requests.
We have three categories of boat: Standard, Luxury and Exclusive. Facilities and quality also vary within these categories. Please look at each vessel for a full list of facilities and images of the boat.
Most private charter boats have double cabins (double beds) but some also have twin cabins (separate single beds); some cabins can be converted and we have stated where this is the case under each listing. Cabin charter generally tends to be twin cabins, but please check beforehand.
Food and drink can be organised in three ways: self-catering, full board and all inclusive.
We can organise

airport transfers

to make your holiday as hassle free as possible.
If you have any questions take a look at our Frequently Asked Questions or contact us.
Motor yacht charter
As well as offering classic wooden gulets we also charter beautiful motor yachts. Motor yacht charters differ from gulet charters as they are more flexible in terms of charter days. Thanks to their speed they can cover greater distances so are a good option if you want to see a larger area.
Expenditure, such as food and drink and fuel, is covered by a prepayment called APA (Advance Provisioning Allowance), which is  usually 30% of the total charter fee. If expenditure is less than the APA, a refund will be given. In rare cases the spending will be more, in which case guests will need to pay the extra.