Bodrum – Gulf of Hisarönü – Bodrum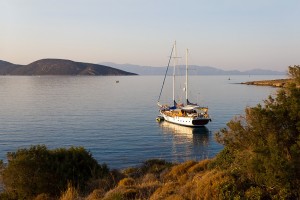 The Gulf of Hisarönü. So quiet you can hear the beating of a butterfly's wing. So calm you can see the sky reflected in the sea. Meditation or Hisarönü? We think Hisarönü.
Day 1 – Bodrum
Your Turkey gulet holiday starts in Bodrum. After check-in at 3pm your time is free to explore the historic and charming town of Bodrum. Learn about the city's ancient past in Bodrum Castle and the Museum of Underwater Archaeology. Or stroll round the cool lanes of the old town and pick up some treats. Bodrum is also famous for its nightlife, so why not have a drink on the beach before heading back to your boat. The first night is usually spent in Bodrum Marina but, providing preparations are complete, our captain can start your blue cruise on the first day.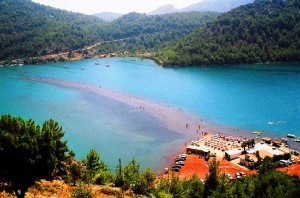 Day 2 – Palamutbükü – İnceburun
Start your journey to relaxation in the clear waters and green slopes of Palamutbükü and İnceburun.
Day 3 – Aktur – Bencik
After a great breakfast and a morning dip in Aktur, set sail again to the deep cove of Bencik. The water here is incredibly calm and cool. It's so calm, in fact, that in the evening you can star-gaze by looking at the water.
Day 4 – Emel Sayın Bay – Orhaniye – Selimiye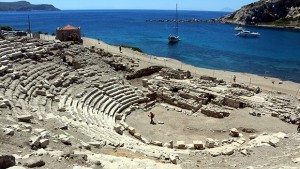 Your chance to walk on water. Orhaniye Bay's Kız Kumu (or Girl's Sand) is a strip of shallow water that divides the bay in half. Enjoy the fun of walking in the middle of the sea. Naturally this intriguing site has an accompanying legend; be sure to ask your captain about story.
Day 5 – Dirsek Bükü – Bozburun
Spend the morning among the natural beauty Dirsek Bükü before heading to the small fishing village of Bozburun. The boat will anchor in a quiet spot near the village. If you decide to take a trip to the village be sure to pick up some of their world-famous thyme honey.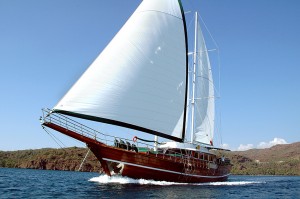 Day 6 – Datça – Knidos
The village of Datça is well-known for its clean air and good walks. Nearby is the ancient city of Knidos, famed for its advanced science, art and architecture and once home to the legendary sculpture, Aphrodite of Knidos.
Day 7 – Karaada (Poyraz Harbour – Meteor Bay) – Bodrum
Enjoy a final day swimming in clear waters surrounded by nature. The tranquil and beautiful coves of Karaada are the perfect end to a perfect week. You can choose to spend your final evening in a cove near Bodrum or in the Marina.
Day 8 – Bodrum
After enjoying your final boat breakfast, you'll disembark at 10am with an air of relaxation and head full of memories. The perfect way to end your Turkish blue cruise.
Please note: In the case of bad weather or sea conditions, for the safety and comfort of guests, Gulet Escapes reserves the right to change routes entirely or partially.