Bodrum – Northern Greek Islands – Bodrum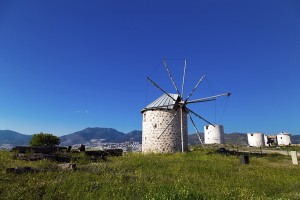 History and culture. Sun and sea. All the boxes are ticked on a tour of the Northern Dodecanese Islands. Your gulet will dock at charming islands and anchor in stunning bays in this unforgettable journey. Island-hopping at its best.
Day 1 – Bodrum
Your gulet holiday starts in Turkey. After check-in at 3pm your time is free to explore the historic and charming town of Bodrum. Learn about the city's ancient past in Bodrum Castle and the Museum of Underwater Archaeology. Or stroll round the cool lanes of the old town and pick up some treats. Bodrum is also famous for its nightlife, so why not have a drink on the beach before heading back to your cabin. The first night is usually spent in Bodrum Marina but, providing preparations are complete, our captain can set sail on the first day.
Day 2 – Kos
A stop in Kos combines dips in the turquoise sea with trips to ancient and medieval monuments. But the birthplace of Hippocrates isn't all about history. Why not try a bike ride through the cedar forests or enjoy the nightlife in Nafklirou.
Day 3 – Pserimos – Leros
Enjoy breakfast in one of Pserimos's paradise bays before heading to Leros, a miracle of nature. The island of Artemis, goddess of forests, it certainly lives up to its namesake. Cycle through the pine trees and olive groves or stroll along the flower-filled streets. And, of course, don't forget to take a dip in Leros's azure waters.
Day 4 – Patmos
Patmos is known as the Island of the Apocalypse! Despite this rather alarming moniker, it was named one of Europe's Most Idyllic Places by Forbes in 2009. With its white houses, green slopes and turquoise coves, the latter title is far more appropriate.
Day 5 – Lipsi
Surrounded by beautiful blue seas, great beaches and bird-filled islets, Lipsi is a great place to find peace and tranquillity. Should that not take your fancy, it's also home to a host of tavernas and restaurants. Be sure to visit the churches of Catopanaghia (7th century) and Panopanaghia (15th century).
Day 6 – Kalymnos
Your last stop before heading back to Turkish waters is Kalymnos, home of some stunning beaches, including Mirties and Vlyhadia. Enjoy the sun and sea or take a trip to one of the towns, where locals earn their keep through harvesting sea sponges.
Day 7 – Akvaryum – Bodrum
You are back in the Turkish waters. Akvaryum, as you might be able to tell from its name, is like an aquarium. Spend your last day plunging into crystal clear waters, but be sure to take a snorkel so you can discover the shoals of fish swimming below your gulet.
 Day 8 – Bodrum
After enjoying your final boat breakfast, you'll disembark at 10am with an air of relaxation and head full of memories. The perfect end to a perfect Greek islands holiday.
Please note: In the case of bad weather or sea conditions, for the safety and comfort of guests, Gulet Escapes reserves the right to change routes entirely or partially.