Bodrum – Southern Greek Islands – Bodrum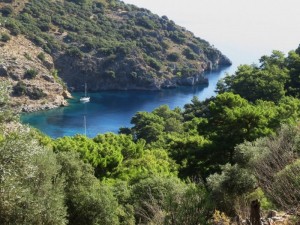 Experience the variety that you can only get with an Island-hopping boat holiday. Find natural beauty in Dirsekbükü. Go back through time in Rhodes. Stroll through the charming lanes of Symi Town. And plunge into the azure waters of Kos. You'll hope that the hopping will never end.
Day 1 – Bodrum
Your week long gulet cruise starts in Turkey. After check-in at 3pm your time is free to explore the historic and charming town of Bodrum. Learn about the city's ancient past in Bodrum Castle and the Museum of Underwater Archaeology. Or stroll round the cool lanes of the old town and pick up some treats. Bodrum is also famous for its nightlife, so why not have a drink on the beach before heading back to your yacht. The first night is usually spent in Bodrum Marina but, providing preparations are complete, our captain can start your boat holiday on the first day.
Day 2 – Knidos – İnceburun – Kargı
Knidos was famed for its advanced science, art and architecture and once home to the legendary sculpture, Aphrodite of Knidos. After exploring this ancient city, enjoy some sun and sea in İnceburun before anchoring in Kargı for the evening.
Day 3 – Dirsek Bükü – Kızılada – Bozburun  
Spend the morning among the natural beauty Dirsekbükü before heading to Kızılada. The boat will anchor in a quiet spot near the village of Bozburun for the evening. If you decide to take a trip to the village be sure to pick up some of their world-famous thyme honey.
Day 4 – Rhodes
Across the maritime border and into Greek waters, where your first stop will be the UNESCO World Heritage island of Rhodes. The history here dates back to 5th century BC. Numerous civilisations, including the St John's Knights, Italians and Ottomans, have left their mark throughout its 2500 year history so that a visit to Rhodes feels like going to an open-air museum. A fascinating stop.
Day 5 – Symi
The beauty of Symi is breath-taking. Symi Town's colourful, Italian-era mansions are nestled on the slopes around the natural harbour and the island has many azure coves. Further inland you can find beautiful forests and dozens of monasteries. If you visit between July and September you might be lucky enough to catch the Symi Festival, which runs a range of performances all summer.
Day 6 – Nísyros – Kos
The lush, green volcanic island of Nísyros offers spectacular scenery and great walks. If you're feeling active, head up to the huge Stefanos Crater or, if you're feeling lazy, enjoy a drink of Soumada by the sea. Afterwards, a stop in Kos combines dips in the turquoise sea with trips to ancient and medieval monuments.
Day 7 – Karaada (Poyraz Harbour – Meteor Bay) – Bodrum
Enjoy the final day of your boat holiday, swimming in clear waters surrounded by nature. The tranquil and beautiful coves of Karaada are the perfect end to a perfect week. You can choose to spend your final evening in a cove near Bodrum or in the Marina.
Day 8 – Bodrum
After enjoying your final boat breakfast, you'll disembark at 10am with an air of relaxation and head full of memories.
Please note: In the case of bad weather or sea conditions, for the safety and comfort of guests, Gulet Escapes reserves the right to change routes entirely or partially.