Fethiye – Greek Islands – Göcek Bays – Fethiye

On the one hand you could visit Göcek's paradise coves. On the other hand you could opt for the history and entertainment of Greek Islands. Or, rather than pick, you could just have both! History and culture combined with sun and sea; what more could you ask for?
Day 1 – Fethiye
Start your gulet trip in the laid-back city of Fethiye, site of ancient Telmessos. Explore this 2000-year-old site by visiting the huge Tomb of Amyntas or touring the excellent Fethiye museum. Or, if relaxing is your thing, why not try a Hamam at the famous Old Turkish Bath.
Day 2 – Rhodes
Head straight across the maritime border and into Greek waters, where your first stop will be the UNESCO World Heritage island of Rhodes. The history here dates back to 5th century BC. Numerous civilisations, including the St John's Knights, Italians and Ottomans, have left their mark throughout its 2500 year history so that a visit to Rhodes feels like going to an open-air museum. A fascinating stop.
Day 3 – Symi
The beauty of Symi is breath-taking. Symi Town's colourful, Italian-era mansions are nestled on the slopes around the natural harbour and the island has many azure coves. Further inland you can find beautiful forests and dozens of monasteries. If you visit between July and September you might be lucky enough to catch the Symi Festival, which runs a range of performances all summer.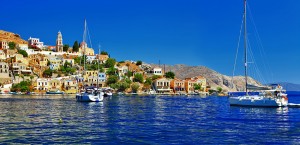 Day 4 – Bozburun – Bozukkale (Loryma)
Your boat will anchor near the small fishing village of Bozburun. If you decide to take a trip to the village be sure to pick up some of their world-famous thyme honey. Later your boat will take you to the stunning Bozukkale Cove. At the entrance of the cove you can see the ancient ruins of the hilltop city of Loryma.
Day 5 – Ekincik Bay – Dalyan
Ekincik Bay is the home of Iztuzu Beach, a beautiful strip of unspoilt sand. It's also known as Turtle or Caretta Caretta Beach since it's one of the main breeding grounds for the loggerhead turtle. The bay is the starting point for an optional tour up the Dalyan River. You'll be taken on a small boat through the Dalyan delta, an area of outstanding natural beauty. While on the tour you'll visit the stunning Iztuzu Beach, see the amazing Lycian rock-tombs of Kaunos and get to wallow in a mud bath.
Day 6 – Tersane Island – Monastery Cove (Manastır Cove)
Tersane Island is home to a natural harbour that was used as a shipyard during Byzantine and Ottoman times. It's now used as a place for swimmers to plunge into the clear waters. Your captain will then take you to Monastery Cove, another splendid area for a dip surrounded by green forests. It also holds the sunken remains of a hamam so be sure to grab your snorkel.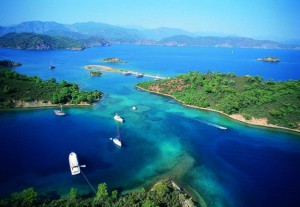 Day 7 – Domuz Island – Kızılada
Start the morning amont the pine trees and olive groves of Domuz Island and spend the afternoon swimming in the turquoise coves of Kızılada (Red Island), so called because of the colour of the beach at sunset. A final day of complete relaxation.
Day 8 – Fethiye
After enjoying a leisurely breakfast, you'll disembark at 10am with an air relaxation and head full of memories. Gulet charter holidays promise nothing less.
Please note: In the case of bad weather or sea conditions, for the safety and comfort of guests, Gulet Escapes reserves the right to change routes entirely or partially.