Fethiye – Kekova – Fethiye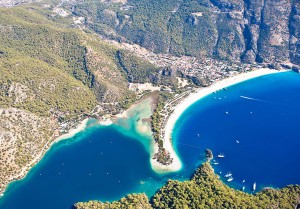 Butterfly Valley, Ölüdeniz and Kaputaş Beach are some of the most stunning and famous spots in Turkey. Experience the extraordinary views and the unforgettable feeling of plunging into azure seas on your very own blue cruise. And, if that's not enough, the fascinating sunken ruins at Kekova are really the cherry on top.
Day 1 – Fethiye
Start your trip in the laid-back city of Fethiye, site of ancient Telmessos. Explore this 2000-year-old site by visiting the huge Tomb of Amyntas or touring the excellent Fethiye museum. Or, if relaxing is your thing, why not try a Hamam at the famous Old Turkish Bath.
Day 2 – Butterfly Valley – Ölüdeniz – Gemiler Island
Butterfly Valley is simply breath-taking. Sapphire waters are sheltered by steep valleys as if they are trying to protect this beauty from the outside world. Drop anchor and plunge into the pristine seas. Your boat then sets sail to Ölüdeniz where you can swim or kayak around the peaceful lagoon. Your boat then sets sail to Gemiler Island, a beautiful spot famed for churches built between the fourth and sixth centuries. It's also known as St Nicholas Island because of the belief that it was the location of the original tomb of St Nicholas (that's Father Christmas to you and me!)
Day 3 – Yeşilköy – Kaş
Start your day with a swim in the beautiful and peaceful Yeşilköy. After a morning of soaking up nature, your boat will take you to charming town of Kaş, where you can enjoy the winding lanes and Bougainvillea covered buildings.
Day 4 – Kekova – Üçağız Koyu
Kekova is the base for exploring Üçağız Cove, home to one of the most intriguing of ancient sites. Due to an earthquake the ancient city of Apollonia (Dolchiste) is now 2 metres under water. Explore Turkey's famous sunken city as well as some stunning, partially submerged Lycian tombs. And as if that wasn't enough, Üçağız Cove is a prime turtle spotting territory.
Day 5 – Demre (Myra) – Gökkaya Cove
Demre, the ancient city of Myra, is the home of St Nicholas (yes, Santa Claus is Turkish) and was one of the most important cities of ancient Lycia. Explore the Byzantine St Nicholas of Myra church or the rock tombs further in land. Afterwards, you'll head to the quiet and stunning Gökkaya cove.
Day 6 – Kaputaş Beach – Kalkan
Kaputaş Beach is the place you'll see on most Visit Turkey adverts: sapphire sea, white sand and dramatic cliffs, it's reminiscent of the pristine beach of the Maldives. After a dip in the crystal clear waters, your next stop is the hot spot of Kalkan. According to the 'Sunday Times', this beautiful town attracts the kind of visitor who would also enjoy Tuscany or the Dördöğne while the 'Guardian' likens the town to "the Italian Riviera minus the poseurs."
Day 7 – Turunçpınarı – Samanlık Koyu
A day of sun, sea and seclusion. Enjoy the natural setting and sounds of birdsong as you swim and relax on deck in the beautiful coves of Turunçpınarı and Samanlık.

Day 8 – Fethiye
After enjoying a leisurely breakfast, you'll disembark at 10am with an air relaxation and head full of memories. A perfect end to a wonderful blue cruise.
Please note: In the case of bad weather or sea conditions, for the safety and comfort of guests, Gulet Escapes reserves the right to change routes entirely or partially.