Göcek – Marmaris – Göcek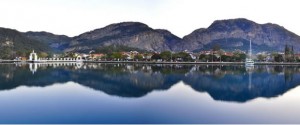 Göcek Bay is home to stunning turquoise coves with great spots to swim in the crystal clear waters. The Turkish poet and painter, Bedri Rahmi, was inspired by the area and maybe it will bring out your artistic side too! If that sounds unlikely, then at the very least it will drain away the stresses and strains of daily life.
Day 1 – Göcek
Start your yacht charter from one of the most popular harbours for blue cruise lovers. Göcek is where the Taurus mountain range meets the Mediterranean and is suitably breath-taking. Before setting sail, take the opportunity to enjoy this chilled out town nestled among green hills.
Day 2 – Kumlubükü – Paradise Island (Cennet Island) – Marmaris
You'll enjoy breakfast and a dip in Kumlubükü before heading to Paradise Island, a spot that really lives up to its name. Swim in the crystal clear waters around the island and then head to the lively town of Marmaris. Set against a backdrop of pine covered mountains, head to thriving centre or stay closer to your boat and explore the old town that overlooks the harbour.
Day 3 – Ekincik Bay – Dalyan
Ekincik Bay is the home of Iztuzu Beach, a beautiful strip of unspoilt sand also known as Turtle or Caretta Caretta Beach since it's one of the main breeding grounds for the loggerhead turtle. The bay is the starting point for an optional tour up the Dalyan River. You'll be taken on a small boat through the Dalyan delta, an area of outstanding natural beauty. While on the tour you'll visit the stunning Iztuzu Beach, see the amazing Lycian rock-tombs of Kaunos and get to wallow in a mud bath.
Day 4 – Gökgemile Cove – Göbün Cove
A day of sun, sea and swimming. Enjoy the Aegean's turquoise and pristine seas in the charming coves of Gökgemile and Göbün.
Day 5 – Monastery Cove (Manastır Cove) – Sarsala Cove
Monastery Cove is a splendid area for a dip surrounded by green forests. It also holds the sunken remains of a hamam so be sure to grab your snorkel. In Sarsala Bay, with its wonderful beach and lush vegetation, you can enjoy the sun, sea and sand without droves of tourists.
Day 6 – Tersane Island – Domuz Island
Tersane Island is home to a natural harbour that was used as a shipyard during Byzantine and Ottoman times. It's now used as a place for swimmers to plunge into the clear waters. Later, your captain will take you to the pine trees and olive groves of Domuz Island.
Day 7 – Bedri Rahmi Cove – Yassıca Islands
Spend the morning in the pristine waters of Bedri Rahmi Cove, named for the Turkish poet who loved visiting the area. After, your boat will take you to the breath-taking Yassica Islands, a small group of uninhabited islets full of turquoise coves.
Day 8 – Göcek
After enjoying a leisurely breakfast, you'll finish your Turkey yacht cruise at 10am and leave with an air relaxation and head full of memories.
Please note: In the case of bad weather or sea conditions, for the safety and comfort of guests, Gulet Escapes reserves the right to change routes entirely or partially.