Göcek – Ölüdeniz – Göcek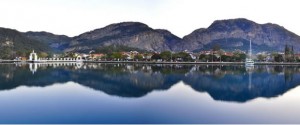 It's no wonder Göcek is the capital of yacht tourism. Its pristine bays, turquoise coves and lush islands bring paradise to your feet. Add to this, the history of Fethiye and the clear lagoon of Ölüdeniz and you'll reach peak relaxation like never before.
Day 1 – Göcek
Start your voyage from one of the most popular harbours for blue cruise lovers. Göcek is where the Taurus mountain range meets the Mediterranean and is suitably breath-taking. Before setting sail, take the opportunity to enjoy this chilled out town nestled among green hills.
Day 2 – Zeytinli Island – Yassıca Islands
Zeytinli Island translates to Olive Island and is, as you might expect, covered in olive groves. After a swimming break here you boat will sail to the world-famous Yassicca Islands, a groups of islets full of turquoise coves that will take your breath away.
Day 3 – Tersane Island – Domuz Island
Tersane Island is home to a natural harbour that was used as a shipyard during Byzantine and Ottoman times. It's now used as a place for swimmers to plunge into the clear waters. Later, your captain will take you to the pine trees and olive groves of Domuz Island.
Day 4 – Kızılada – Fethiye
Swim in the turquoise coves of Kızılada (Red Island), so called because of the colour of the beach at sunset. After, your boat takes you to Fethiye, site of ancient Telmessos. Explore this 2000-year-old site by visiting the huge Tomb of Amyntas or touring the excellent Fethiye museum. Or, if relaxing is your thing, why not try a Hamam at the famous Old Turkish Bath.
Day 5 – Ölüdeniz – Gemiler Island
Ölüdeniz in English means dead sea and is so called because of how quiet and calm it is. Within the bay there is a large lagoon, great for swimming and kayaking and Ölüdeniz is also a premier place for paragliding. Your boat then sets sail to Gemiler Island, a beautiful spot famed for its churches that were built between the fourth and sixth centuries. It's also known as St Nicholas Island because of the belief that it was the location of the original tomb of St Nicholas (that's Father Christmas to you and me!)
Day 6 – Monastery Cove (Manastir Cove)
Monastery Cove is a splendid area for a swim surrounded by green forests. It also holds the sunken remains of a hamam so be sure to grab your snorkel. For this reason, it's sometimes known as Sunken Hamam Cove and apparently also as Cleopatra Bay.
Day 7 – Sarsala Cove – Sıralıbuk
In Sarsala Bay, with a wonderful beach and lush vegetation, you can enjoy the sun, sea and sand without droves of tourists. Later, set sail to Sıralıbuk, a great place for a spot of snorkelling in the pristine waters. Relax and reflect on a wonderful week of cruising.
Day 8 – Göcek
After enjoying a leisurely breakfast, you'll disembark at 10am with an air relaxation and head full of memories. There's no better way to cruise Turkey, than with a gulet charter.
Please note: In the case of bad weather or sea conditions, for the safety and comfort of guests, Gulet Escapes reserves the right to change routes entirely or partially.