Aegean Odyssey
Overview
---
An inspiring Greek cruise that explores abundant history the Cycladic and Dodecanese islands as well as Turkey. Explore ancient civilisations, stunning beaches and turquoise seas on this Greek island cruise. Greece and Turkey are remarkable destinations where history and culture are bathed in the beautiful light of the Aegean.
7 Nights / 8 Days
Route: Athens – Ios – Santorini – Patmos – Kusadasi – Samos – Delos – Mykonos – Tinos – Kythnos – Cape Sounion – Athens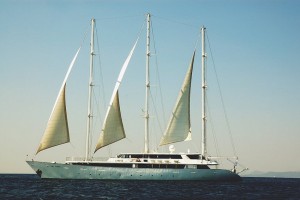 Ship Name: Panorama
Departure Days: Fridays
Embarkation: Marina Zeas (Piraeus, Athens)
Embarkation Time: Between 2pm and 3pm
Disembarkation: Marina Zeas (Piraeus, Athens)
Disembarkation Time: 9am, after breakfast
Our Greek cruises offer:
• Comfortable cabins and deck areas
• A/C, mini bar and safe in cabins
• All meals cooked by the on board chef
• Indoor dining area
• Outdoor lounge – bar
• Sun beds and beach towels
• Swimming platform
Itinerary
---
Route: Athens – Santorini – Mykonos – Athens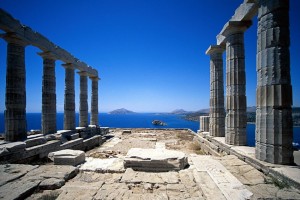 Day 1: Marina Zeas (Piraeus, Athens)
Embarkation is between 14:00-15:00. Firstly, a cocktail is served to welcome you aboard and then we head out to Ios. Enjoy a welcome dinner and overnight at sea to Ios / Santorini.
Day 2: Ios – Santorini
Our first stop is to enjoy a refreshing swim at Manganari Beach in Ios, one of the most breath-taking beaches in Greece. At noon, we reach the stunning island of Santorini. Here, we take a cable car up to Fira, a town which clings to the top of the volcanic cliffs and explore the lanes that run through beautiful white buildings. There is an optional afternoon tour to Akrotiri, a city that was buried in the 1600 BC eruption that created the island, and to Fira. The tour will finishes in Oia, a place with a world famous sunset. Overnight at sea to Patmos.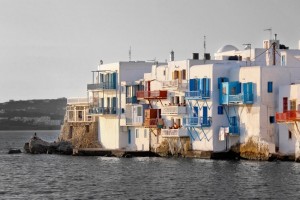 Day 3: Patmos
Arriving at Patmos first thing, we highly recommend taking the optional Patmos excursion, which includes two UNESCO World Heritage Sites, the medieval town of Chora and the Grotto and Monastery of St. John. The rest of the day can be spent at your leisure exploring the island capital Scala or swimming at a nearby beach. Overnight in Patmos.
Day 4: Kusadasi – Samos
We leave for Kusadasi, Turkey, first thing, which is the departure point for an optional tour to Ephesus, the greatest archaeological site in the Aegean region. One of the most well-preserved ancient sites, you can envisage Cleopatra and Mark Anthony riding down the avenue in procession, as they did more than 2,000 years ago! After the tour, you'll enjoy some lunch and free time before we set sail to Samos island. We reach the quaint port of Pythagorion in the late afternoon. There you can explore the narrow streets of the city, relax at the many seaside cafes or enjoy a swim. We set sail late in the evening and overnight at sea.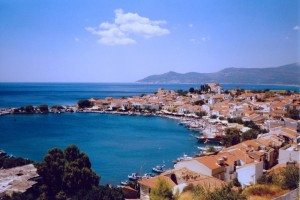 Day 5: Delos – Mykonos
Start your Cyclades exploration with a visit to Delos, the tiny island birthplace of Apollo and Artemis. On an optional guided walking tour, you'll learn about this UNESCO World Heritage Site and "open-air museum" by visiting its many intact ancient monuments and buildings. Then, weather permitting, we will sail to into a beautiful bay for a refreshing swim stop and lunch. In the afternoon we sail into the harbour at Mykonos. Disembark to discover its brilliant white houses and stroll in the narrow lanes. Don't forget to visit a bakery that has been turning out bread in wood-fired ovens since the 15th century. Overnight in Mykonos.
Day 6: Tinos
Early in the morning we leave for the island of Tinos. The first stop is Ysternia beach for a swim and barbeque lunch. Afterwards, we set sail to Tinos harbour where you can take an optional excursion to the island Villages. We will visit the picturesque villages of Exovergo and Volax. Overnight in Tinos.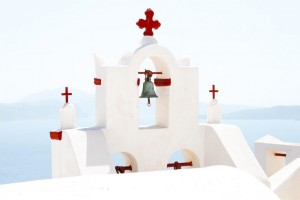 Day 7: Kythnos – Cape Sounion
We leave in the morning for a swim stop and barbecue at Kolones Beach in Kythnos. After enjoying our last swim stop, we sail to Cape Sounion. We arrive at 17:30 where we'll enjoy a farewell cocktail and dinner under the Temple of Poseidon. In the evening, we will leave Sounio to reach Marina Zea. Overnight Marina Zea.
Day 8: Marina Zea, Athens
Enjoy your final breakfast and leave with fond memories of this amazing part of the world. Disembarkation is between 9 and 10am.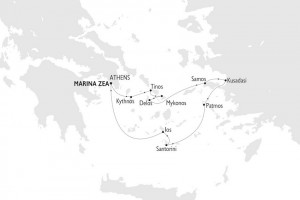 Itineraries can be changed at the discretion of the Vessel's Captain in case of adverse weather conditions – winds of 6/7 beaufort or more depending on the vessel- on port authorities not allowing a vessel to leave port or in case of other extraordinary conditions. Such itinerary changes do not entitle automatically passengers to any refunds, but we guarantee that passengers are disembarked at the advertised port of disembarkation on time for their flights.
Accommodation
---
Panoroma

• A/C
• En-suite bathrooms with showers
• Double/twin beds
• TV
• Telephone for internal use
• Hair dryer
• Mini fridge
• Central music system
• Safe box
• Bed linens and bath towels
• Beach towels
Dates and Prices
---
From Marina Zea, Athens

Friday departures

M/S Panorama

June: 26
July: 10, 17, 24, 31
Aug: 07, 14, 28

Cabin Categories
Price pp
Cat A

£2740

Cat B

£2175

Cat C

£1870
• Cat A: Main and upper deck, twin or double beds
• Cat B: Lower deck, twin, double or triple beds
• Cat C: Lower deck, twin or double beds
• Cruise fares mentioned are per person in double occupancy.
• Flights and transfers aren't included. Can be arranged on request.
• Single Supplement is 60% for Cat C and B Cabins and 75% for Cat A Cabins.
• 3rd Person discount for Cat B 30%.
• Children 7-10 years old discount in triple cabin w/2 adults in Cat B 50%.
• Children 11-16 years old discount in triple cabin w/2 adults in Cat B 35%.
INCLUDED IN THE PRICE
• Half-board: Buffet breakfast and 1 meal daily.
• Welcome Cocktail, a Greek night Evening, fun BBQ (weather permitting).
• One night Captain's Dinner.
• All day drinking free water, regular (filter) coffee and tea.
• Crew services.
• Use of equipment on board (Flippers, snorkel and fishing tackle etc.).
• Yacht insurance (We advise you to take out individual travel insurance).
• English-Speaking Cruise Escort.
NOT INCLUDED IN THE PRICE
• Prices exclude Port Charges £255 / 300€.
• Alcoholic & soft beverages. These can be purchased from the bar on board.
• Optional land tours and entrance fees to historical places and museums.
• Flights and Airport Transfers.
• Wi-Fi (available at charge).
• Crew tips.
Highlights
---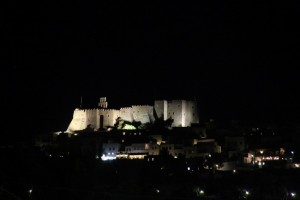 Patmos: The island of the Apocalypse
Let go of yourself to the spiritualism and serenity of this Divine island. The Cave of the Apocalypse, this holy, candlelit grotto is believed to be the spot where St John the Divine received his visions from Christ and transcribed the Book of Revelation, the last chapter of the Christian Bible. Exiled on Patmos in 95 AD, he preached to, baptised and prayed with the island's inhabitants. Eventually, Patmos came to be considered holy and the grotto became the focal point of a significant religious pilgrimage.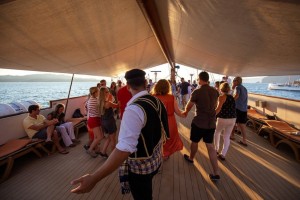 Santorini island – The Greek Night
The famous and much-loved Greek night on board is right after our Greek-night dinner. Greek dance is a very old tradition, being referred to by authors such as Plato, Aristotle, Plutarch and Lucian.There are different styles and interpretations from all of the islands and surrounding mainland areas. Each region formed its own choreography and style to fit in with their own ways. As an example, island dances have more of a different smooth flow to them. Follow the rhythm and be tempted!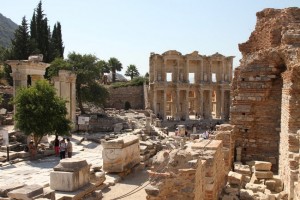 Turkey, Ephesus
At Ephesus, the Greco-Roman world truly comes alive. As the biggest on earth, and one of the Seven Wonders of the Ancient World, the Temple of Artemis is on the western edge of present-day Selçuk. While you tour this remarkably preserved Greek and Roman city, you may feel as if you're about to encounter a toga-garbed resident, or hear a chariot clattering down the main avenue, the very same avenue down which Cleopatra and Mark Anthony rode in procession more than 2,000 years ago!
---