Marmaris – Fethiye – Marmaris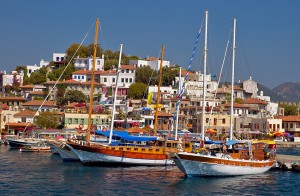 Swim in the pristine seas of the Turkish Riviera, wallow in a mud bath in Dalyan, see the rock tombs of Kaunos, visit the beautiful bays of Göcek and kayak around the lagoon at Ölüdeniz. A beautiful route that makes the most of what Turkey has to offer.
Day 1 – Marmaris
Set against a backdrop of pine covered mountains, enjoy the lively streets of Marmaris on your first night. A large town, you can either opt to head to the thriving centre buzzing with life or stay closer to your boat and have dinner in the old town overlooking the harbour.
Day 2 – Ekincik Bay – Dalyan
Ekincik Bay is the home of Iztuzu Beach, a beautiful strip of unspoilt sand also known as Turtle or Caretta Caretta Beach since it's one of the main breeding grounds for the loggerhead turtle. The bay is the starting point for an optional tour up the Dalyan River. You'll be taken on a small boat through the Dalyan delta, an area of outstanding natural beauty. While on the tour you'll visit the stunning Iztuzu Beach, see the amazing Lycian rock-tombs of Kaunos and get to wallow in a mud bath.
Day 3 – Ölüdeniz – Gemiler Island
Ölüdeniz in English means dead sea and is so called because of how quiet it is; even in stormy weather this sheltered bay remains remarkably calm. Within the bay there is a large lagoon, great for swimming and kayaking, and Ölüdeniz is also a premier base for paragliding. Your boat then sets sail to Gemiler Island, a beautiful spot famed for churches built between the fourth and sixth centuries. It's also known as St Nicholas Island because of the belief that it was the location of the original tomb of St Nicholas (that's Father Christmas to you and me!) Depending on the time available, your boat might also visit the stunning Butterfly Valley.
Day 4 – Turunçpınarı – Fethiye
After a hearty breakfast, spend the morning swimming in the beautiful Turunçpınarı. Later, your gulet will head to the picturesque and relaxed Fethiye. One of the main centres of the Turkish Riviera, Fethiye is home to Telmessos, the huge Tomb of Amyntas from 350 BC. Or, if relaxing is your thing, why not try a Hamam at the famous Old Turkish Bath.
Day 5 – Göcek Bay (Yassica Island – Tersane Island – Bedri Rahmi Cove)
First stop is the breath-taking Yassica Islands, a small group of uninhabited islets full of turquoise coves.  Next, your captain will take you to Tersane Island, a natural harbour that was used as a shipyard during Byzantine and Ottoman times. Finally to Bedri Rahmi Cove, named for the Turkish poet who loved visiting the area.
Day 6 – Göcek Bay (Monastery Cove (Manastir Cove) – Ağa Harbour)
Monastery Cove is a splendid area for a swim surrounded by green forests. It also holds the sunken remains of a hamam so be sure to grab your snorkel. For this reason, it's sometimes known as Sunken Hamam Cove and apparently also as Cleopatra Bay. Your boat will then anchor in Ağa Harbour, a bay bordered by pine clad slopes, where you will spend the night.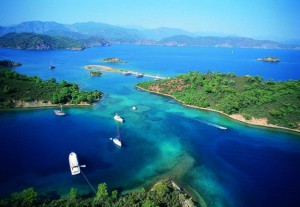 Day 7 – Kumlubükü – Paradise Island (Cennet Island) – Marmaris
You'll enjoy breakfast and a dip in Kumlubükü before heading to Paradise Island, a spot that really lives up to its name. Spend your last day swimming in the crystal clear waters around the island before heading back to Marmaris to enjoy your final night on the boat.
Day 8 – Marmaris
After enjoying a leisurely breakfast, you'll disembark at 10am with an air relaxation and head full of memories. A Turkey gulet holiday promises nothing less.
Please note: In the case of bad weather or sea conditions, for the safety and comfort of guests, Gulet Escapes reserves the right to change routes entirely or partially.