Marmaris – Datça – Greek Islands – Marmaris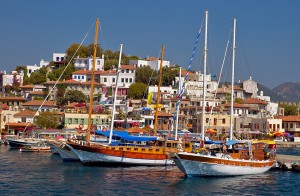 Explore the paradise coves of the Aegean coast of Turkey and set out for a historical and cultural journey in the Greek Islands. Bencik Cove will take your breath away with its beauty while you'll feel like you're going back through time in Rhodes.
Day 1 – Marmaris
Set against a backdrop of pine covered mountains, enjoy the lively streets of Marmaris on your first night. A large town, you can either opt to head to the thriving centre buzzing with life or stay closer to your boat and have dinner in the old town overlooking the harbour.
Day 2 – Serce Limani– Bozukkale
Start the day with a trip to Serce Harbour, a nautral harbour only accessible by sea ensuring total seclusion. Later your boat will take you to Bozukkale Cove. At the entrance of the cove you can see the ancient ruins of the hilltop city of Loryma.
Day 3 – Bozburun – Dirsek Bükü – Bencik
Morning will be spent near the small fishing village of Bozborun. Enjoy a dip or take a trip to the village to pick up some of their world-famous thyme honey. Your boat will then take you to the Dirsek Bükü an area of stunning beauty before setting sail to the deep cove of Bencik. The water here is incredibly calm and cool. It's so calm, in fact, that in the evening you can see the entire sky refelcted in the sea. Stargaze without looking up.
Day 4 – Aktur – Datça
After a morning dip in the pristine waters of Aktur, your yacht will take you to the old town of Datça.   This idyllic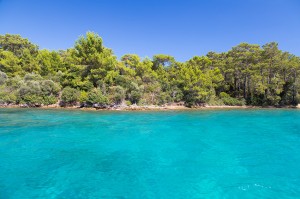 town has a beautiful old quarter and the region is famed for its fresh air and rich history.
Day 5 – Symi
Across maritime borders and into Greek waters, you'll first visit the breath-takingingly beautiful Symi. The main town's colourful, Italian-era mansions are nestled on the slopes around the natural harbour and the island has many azure coves. Further inland you can find beautiful forests and dozens of monasteries. If you visit between July and September you might be lucky enough to catch the Symi Festival, which runs a range of performances all summer.
Day 6 – Rhodes
A chance to visit the UNESCO World Heritage island of Rhodes. The history here dates back to 5th century BC.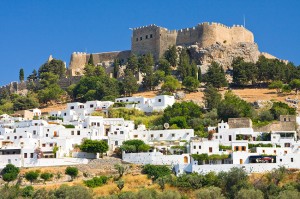 Numerous civilisations, including the St John's Knights, Italians and Ottomans, have left their mark throughout its 2500 year history so that a visit to Rhodes feels like going to an open-air museum. A fascinating stop.
Day 7 – Paradise Island (Cennet Island) – Marmaris
Paradise Island is a spot that really lives up to its name. Spend your last day swimming in the crystal clear waters around the island. Relax and reflect on a wonderful week on the seas, before heading back to Marmaris to enjoy your final night on the boat.
Day 8 – Marmaris
After enjoying a leisurely breakfast, you'll disembark at 10am with an air relaxation and head full of memories. Turkey Gulet holidays promise nothing less.
Please note: In the case of bad weather or sea conditions, for the safety and comfort of guests, Gulet Escapes reserves the right to change routes entirely or partially.