Northern Greek Islands Luxury Gulet Cruise
Overview
---
7 Nights / 8 Days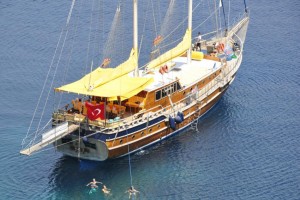 Embarkation: Bodrum Marina from 15:30
Disembarkation: Bodrum Marina by 09:30 am, after breakfast
Departures on Saturday
Our luxury cabin charters offer:
- All meals on board, soft drinks and wine during dinner service (other alcoholic beverages can be purchased from the onboard bar)
- Sailing weather permitting (at captain's discretion)
- Adjustable A/C throughout (limited use)
- Spacious cabins
- High quality food
- TV and DVD players
- Wi-fi
- Great range of water sports and water toys
Itinerary
---
Route: Bodrum – Northern Greek Islands (Dodecanese)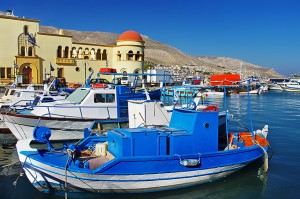 Day 1: Bodrum
Your gulet cruise starts in the bustling resort town of Bodrum. Your captain and crew will be waiting to welcome you on board in Bodrum Harbour. Spend the first night on board in Bodrum harbour, or if all the guests have arrived then your gulet can depart for Kalymnos straightaway.
Day 2: Kalymnos
After passing through customs in Bodrum and we depart for Kalymnos. Before arriving to the harbour of Kalymnos, anchor in the hidden natural harbour of Vathi, which is the most fertile spot of the island. The lovely houses in the village of Rina trickle down the slopes of two hills, while a small part of the settlement lies in the verdant valley that extends to the fishing village and the natural fjord-like gulf beyond. The charming village fringed with citrus orchards boasts one main street and a scattering of houses; an unexpected patch of lush vegetation on an otherwise dry and arid-looking island. Vathi is the only place on the island that is lucky enough to have its own spring water supply, and here it is used carefully to cultivate citrus fruits, figs, grapes and anything else that can be persuaded to grow!
This deep blue inlet is also home to a cluster of picturesque church remains dating from the early Byzantine period to the more recent past, which can be accessed after a short walk. We stop here for lunch on board, and for swimming and snorkelling in the most incredible waters. You can even try some rock climbing here. Before watching the sunset with cocktails on deck and stepping on shore to dine at one of the 2 tiny tavernas in Vathi where the octopus is a must-try!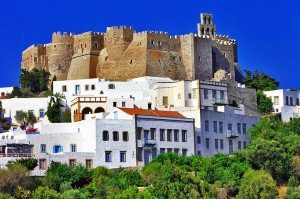 Day 3: Telendos – Patmos
On the way to Patmos your yacht will visit the islet of Telendos, which is located 700 meters from Kalymnos. Until 535 CE this tiny island was actually part of Kalymnos until an earthquake separated the two. It is a lovely quiet spot with no roads and no cars; just warm and genuine Greek hospitality. A strip of tavernas offering
fabulous views back to the escarpment of Kalymnos itself lines the waterfront, and the tiny village has a paved and shady main street which soon leads you to a couple of lovely beaches on the west side of the island.
Away from crowds, Telendos is a haven for soaking up some quiet time, as well as another hotspot for climbing. Spend the day lazing in the sun, walk along the sea front in the shade of the tamarisk trees, and swim or snorkel in crystal clear waters from your gulet yacht in one of the small secluded coves dotted around the island.
The On the Rock establishment on Telendos offers a choice of incredibly tasty Greek signature dishes including freshly caught fish, octopus and moussaka, which taste even better from this fantastic location by the sea. Don't miss sampling a few from the extensive cocktail and Greek beer menu.
From here, sail to Patmos and dock in the main port of Skala. Patmos' breathtaking scenery and special atmosphere have made it an ideal getaway for those seeking inspiration or a quiet retreat. The island is built around the important Monastery of St. John and its medieval fortress, which is visible from nearly everywhere on the island, and stands overlooking Chora as a reminder of Patmos' historical and spiritual significance. St. John is said to have penned the Book of Revelations and the Apocalypse here on Patmos. The monastery houses some spectacular frescoes and a museum well worth visiting. The smaller monastery of the Apocalypse halfway down the hill from Chora, grew up around the grotto where the Evangelist is said to have heard the voice of God.
Day 4: Lipsi
Wake up to the sunshine, have a relaxing breakfast on board and then spend the morning exploring Lipsi. Perhaps head out and cruise to one of the untouched bays or sandy beaches along the coast for swimming and relaxing on board.
The virgin nature, crystal clear waters, beaches and the relaxing atmosphere of Lipsi Island attract tourists looking for total seclusion and privacy. This is a frequent destination among naturists and hikers, as many beaches can only be reached on foot or by boat. A fortress crowns the uppermost peak of the island, and in the scattering of small tavernas and cafes below you will find local delicacies like the traditional thyme honey, wine, cheese and grapes.
There are so many small churches in the island that it is said there is 1 church for each family in Lipsi. Panaghia tou Harou architecturally has a local feel, Byzantine in perception yet austere and unpretentious. As yet unexcavated, the church was built sometime between the 7th and 8th Century CE. The holy icon of the Virgin here, holding Jesus crucified, is reputed to be of miraculous powers. The uniqueness of the concept and the skill of the rendition make this icon one of the brightest moments in hagiography.
Now to Lipsi's beautiful beaches! Lientou is by far the most popular and located in town. Venture a little further and discover the Kampos, Platys Yialos – a delightful sandy strip of land stretching out to sea, and the exceptionally stunning sandy beach of Papandria in the south facing the island of Leros. Chochlakoura beach is loved for its pebbles, flat rocks and scenic caves, while Tourkomnima, Xirokampos, Monodendri and Kamares are all remote beaches of wild beauty, and definitely worth the expedition to visit.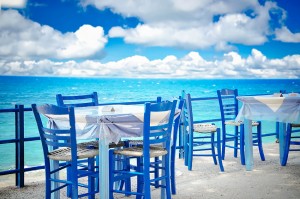 Day 5: Leros
Cruise to the small island of Leros, the island of Diana, Goddess of Hunting. This is an island of small fertile valleys sandwiched between rolling green hills, deep coves and pretty beaches. Depending on the winds, dock in the harbor of Agia Marina or the more secluded bay of Panteli.
Pandeli is the oldest fishing village in Leros, where most of the residents are still in the fishing trade, and located in the island's most picturesque spot surrounded by enchanting landscapes of green trees, steep mountains and excellent coves.
The small settlement is built amphitheatrically around the natural bay and joins with Platanos, the quaint harbor of Agia Marina, which has selective local shops located in old traditional buildings that sell antiques and crafts. The town of Alinda is also gorgeous with its attractive pebble beach and hip beach clubs. These waterfront towns hold most cultural interest, with their neoclassical buildings and pleasant village atmosphere.
Leros has a magnificent crusader castle or better known as Kastro, It is a strong medieval fortress presiding over the villages of Pandeli and Agai Marina, with spectacular views of the mountainous landscape and the sea. It is a rigorous uphill climb from either village, but once at the top it is truly picturesque and a lovely walk back down directly into either village. The island is a paradise for foodies with a rich culinary heritage, featuring many unique Lerian specialties. You can find the best combination of the local and fusion cuisine, witnessed by the seaside El Greco Restaurant on the Panteli beach. Make sure to try the tuna carpaccio and phyllo bread stuffed with soft goat cheese.
The patisserie-cafe To Paradosiako, meaning 'The Traditional' in Greek, is in Agia Marina's harbor, has a lovely setting on the water and offers some of the most delicious and creative treats you can find. With contemporary and spiced up traditional flavors, you will be spoilt for choice with what's on offer here.
After dinner Leros comes alive in bars and nightclubs that feature local Bouzouki as well as contemporary music, warm hospitality and a laid-back ambience, which is at its best in Panteli and Agia Marina.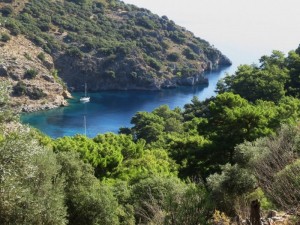 Day 6: Turgutreis – Orak Island
From here cross back into Turkish waters and from Turgutreis, sail south to into the Gulf of Gokova, a stunning stretch of the Aegean where the sea displays its most remarkable hues. The rugged coastline with its myriad small bays and harbors gives way to a lush backdrop of pine-clad hills and mountains. Drop anchor near Orak Island, one of the Gulf's large islands, and this one known for its rich sea life and crystal clear water, a perfect site for snorkelling.

Day 7: Kisebuku Bay (Or Ciftlik Bay)
This morning cruise to the gorgeous Bay of Kisebuku. Take advantage of the calm midday hours, sailing smoothly along the Gokova shores. Late afternoon come into the Bodrum harbor, or continue to Ada Bogazi, another lovely anchorage, for the last night.

Day 8: Bodrum
Your gulet trip comes to an end with precious memories. Disembarkation by 09:30 after breakfast.

Please note depending on sea and weather conditions, the captain reserves the right to make necessary changes to the tour itinerary to ensure the safety and comfort of our guests.
Accommodation
---
Luxury Service
We work with a range of luxury gulets that meet the highest standards. The size of the gulet may vary, but the quality is always the same. Comfortable cabins, spacious deck areas, great facilities, delicious food and excellent service.
Cabins
Spacious cabins
En-suite bathrooms with enclosed shower
Adjustable A/C throughout (limited use)
Generous storage space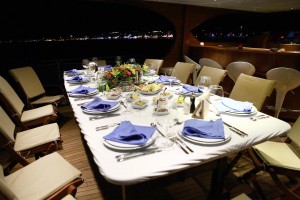 Face, hand, bath and beach towels
Bathrobes
Hair dryer
Food & Drink
If you think Turkish food is all about doner kebabs, you're in for a pleasant surprise. There's lots of fresh fruit and vegetables, olive oil dishes, grilled fish and meat and wonderful mezes. The luxury gulet cruise offers the best in Turkish cuisine cooked by our on-board chef.
Included in the cruise price is three daily meals, afternoon snacks, soft drinks and wines during dinner service only.
Gulet Facilities
TV and DVD players
Wi-fi
Snorkelling equipment
Sea kayak
Fishing equipment
Backgammon, chess and playing cards
Dates and Prices
---
| | | |
| --- | --- | --- |
| Period | Double Cabin | Master Cabin |
| 04 May – 18 May and 05 Oct – 26 Oct | N/A | N/A |
| 18 May – 22 Jun and 07 Sep – 05 Oct | N/A | N/A |
| 22 Jun – 07 Sep | N/A | N/A |
•Prices above are per person per week sharing a double or master cabin on all inclusive basis
•Single Supplement is 75%
•Children under the age of 8 aren't allowed
INCLUDED IN THE PRICE
• All meals on board, soft drinks and wine during dinner service (other alcoholic beverages can be purchased from the onboard bar)
• All charter & berth taxes, harbour & port procedures
• Transit log & related formalities for the shipping agents
• Mooring expenses
• Crew service
• Clean bed linen and bath towels on arrival
• Use of equipment on board (Flippers, snorkel and fishing tackle etc.)
• Yacht insurance (We advise you to take out individual travel insurance)
• Turkish V.A.T.
NOT INCLUDED IN THE PRICE
• Flights (Can be arranged on request)
• Transfers (Can be arranged on request)
• Optional land tours and entrance fees to historical sites and museums
Extend Your Holiday
---
Why not add a few days before or after your cruise and explore Turkey on land as well as sea. We can organise tours to places such as Istanbul, Cappadocia or Ephesus. Alternatively, we can arrange a villa or a hotel for you at a location of your choice. See our Gulet Cruise & Stay page.