Split – Korčula – Split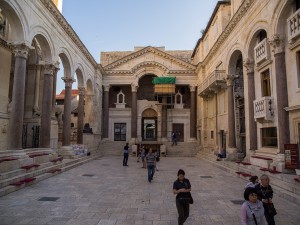 This route is a wonderful mix of medieval Croatian towns, pine-covered islands and crystal clear turquoise waters.
Day 1 – Split – Brač (Milna)
After check-in you'll have time to relax, settle and meet the crew members. First stop is going to be the beautiful island of Brač. You'll spend your first evening in the charming village of Milna.
Day 2 – Brač (Milna) – Vis
In the morning you'll set sail to Vis, a small island surrounded by the turquoise waters of the Adriatic. Largely undeveloped, Vis gives you an insight into authentic Croatia and is home to stunning beaches as well as some unmissable grottos. It's also home to great food, particularly seafood, and great wine cellars. – Vis has its own grape variety called Vugava. Make sure to try out this delicious local tipple.
Day 3 – Vis – Hvar (Hvar Town)
In the morning you'll set sail to the Pakleni Islands, which are just off the coast of Hvar town. Relax in the serene greenery of these wooded islands and take a dip in the turquoise sea. In the afternoon or evening you will be transferred by dinghy to Hvar. You can take a taxi-boat to return to the yacht, so you are at your leisure to explore this jet-set town or further afield. You can soak up the glitz and glamour of Hvar town while enjoying one of the many excellent restaurant, cafes and bars. Or explore the history of the island with a visit to the fortress or the Franciscan monastery.
Day 4 – Hvar (Hvar Town) – Korčula
Your cruise continues on to the island of Korčula. Birthplace of Marco Polo, the town of Korčula dates back to the 13th century. The streets are ingeniously laid out to make the most of the cool summer breezes but protect inhabitants from the cold winds which blow through in winter. This, of course, make it a great place to stroll around on a hot summer's afternoon. Afterwards you can try one of the many restaurant on the seafront. Or you can try a konoba to experience proper Dalmatian cuisine.
Day 5 – Korčula – Pelješac
After breakfast sail on to peninsula of Pelješac and dock  in the port of Loviste. Relax, and swim and snorkle in this excellent  spot or head ashore to do some exploring for the afternoon.
Day 6 – Pelješac – Hvar (Jelsa)
You'll spend the day sailing up the northern coast of Hvar, stopping for swimming and sunbathing in different bays. In the evening you'll port in Jelsa a small town nestled among pine covered hills. Spend a lovely evening relaxing in this quiet harbour.
Day 7 – Hvar (Jelsa) – Brač (Bol) – Split
From Jelsa, you'll set sail one of the most famous sites in Croatia, the beautiful beach of Zlatni Rat (The Golden Horn). Enjoy the beach or head into the surrounding pine forests to discover a Roman Villa. After enjoying the nature you'll set sail to Stobreč in Split where you'll enjoy your last night on board.
Day 8 – Split
After enjoying your final on-board breakfast you'll disembark at 9am. But the holiday doesn't have to over! If you have time why not explore  the fascinating historical town of Split.