Split – Zadar – Split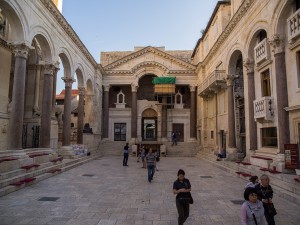 Day 1 – Split – Trogir
Your Croatian Gulet charter starts with check in at 5 pm in the port of Stobreč, just 5 km from Split. Enjoy a traditional welcome drink and meet your crew.
Journey to Trogir where dinner will be served on board.
Your gulet cruise will visit the town of Trogir, one of the pearls of the Adriactic, a beautiful ancient town under UNESCO prtection, situated on a small island. Trogir centre is a mix of Renaissance and Baroque styles though the town was founded in the town was founded in the 2nd Century BC.
Day 2 – Trogir – Skradin – Šibenik
After breakfast, continue your Croatian gulet holiday towards Skradin, small a town located at the entrance of Krka National Park , known for its large of lakes and series of 7 waterfalls.
The park has a wealth of flora and fauna. You can also visit traditional watermills and the Franciscan monastery of Our Lady of Mercy, located on the small island Visovac.
Skradin is a fascinating Mediterranean town with narrow, cob bold streets, passageways and arches, the town center being a protected cultural heritage site.House is Skradin mostly date from the 18th and 19th century their facedes are decorated intypical Venetian Style. At the beginning of the 14 th century it was the capital of Croatia an Bosnia. Šibenik can be visited, this has 2 UNESCO protected sites, the Cathedral of St James and St Nicholas fort.
Day 3 – Šibenik – NP Kornati
In the morning your Croatian gulet cruise will take you  to Kornati - another Croatian National Park and known as a nautical paradise.It`s a 220 km2 large area between Šibenik and Zadar with an archipelego of 89 islands, reefs and inlets with approximately 238 km of coast. This area is known especially for its rich marine ecosystem. Vertical cliffs, or `crowns`,of Kornati Islands, facing the open sea, are the most popular phenomenon of this Park. They are also the habitat of rare species. Overnight will be spent in the beautiful, untouched natural surrounding of hidden bay.
Day 4 – NP Kornati – Zadar
After breakfast, sail along the Dalmatian coastline on your gulet charter, through crystal clear blue seas and enjoy lunch in one of the beautiful bays that abound here. Zadar, a three thousand years old city is rich in historical sights and monuments, St Donatus`Church and the old Roman forum, the main square of the city, visit St Anastasia`s Cathedral and enjoy the stunning view from the Bell Tower.
One the west part of promenade, a stunning show of sound and light is produced by an installation that absorbs solar energy and produces light and colours that change in harmony with the music from the sea organs, which in turn is produced by the waves.
Day 5 – Zadar – Murter
After breakfast cruise to a scenic bay for you to swim, sunbathe, relax and enjoy your Croatian gulet holiday. After lunch, visit the island of Murter with its beautiful beaches and unspoilt natural surroundings. A wonderful place to forget the everyday hustle and bustle of life. Swim and sunbathe on the beautiful beaches(Slanica beach, Podvrske beach, Cigrada beach and Kosirina beach), or take walks in this beautiful setting. Murter is also known for beautiful coves that are hidden from the eyes of most of the tourists. Murter also has few old churches for any history lovers Murter also has some old churches that can be visited, together with the old Roman archaeological site of Colentum.
Day 6 – Zadar – Rogoznica
Spend the next morning relaxing and then afterlunch, your  Croatian gulet cruise  will take you to Rogoznica, a small Dalmatian town only 32 km away from Šibenik, famous for it`s marina and beautiful beaches. Legends of dragons, fairies and sea monsters abound in this area, two phenomenons in Rogoznica are named Dragon`s Eye ( a lake that sometimes foams and bolis and where, according to a legend, the dragon Murin the extramarital son of Hera and Poseidon) lived, and Dragon`s Ear, a cave in the middle of an artificial island in Marina Frapa.
Day 7 – Murter – Šolta (or Split)
After breakfast, onto the island of Solta, where you can spend the morning in a picturesque bay, sunbathing and relaxing and swimming in the crystal clear waters. After lunch, sail on your Croatian gulet charter to a bay close to the small village of Nečujam. In the evening you can visit the town and enjoy dinner in one of the local restaurants, sampling the local delicacies. Or you can choose to spend the last evening of your Croatian gulet holiday in  the beautiful town of Split , your gulet would be moored in Split for evening and overnight. Split offers so much to ist visitors, from cultural and historical heritage to entertainment. The place musts`t, and can`t, avoid in Split is definitively Diocletian`s Place. Built in the 3rd century created as a summer residence for the Roman emperor Diocletian, but apart from the Palace the are many other things to see in the city, like the Diocletian`s substructures (cellars0, the smallest and the oldest cathedral in the world St. Duje`s Cathedral (the patron saint), museums and galleries.
Day 8 – Šolta – Split
If you decided to stay on Šolta for your last night, you will have early breakfast while sailing towards Split. We have come to the end of your Croatian gulet charter,so say  goodbye to this fabulous gulet and crew. Check out is by 9 AM.