Social distancing that you'll actually enjoy! 
On private gulet cruises the only people on board are your group and the crew, who remain on board with you for the duration of the trip.  The itinerary can be arranged so these are the only people you see throughout your cruise: you can spend your days and nights in secluded coves, disembark to explore hidden beaches and take a dip in the peaceful Turquoise waters of the Aegean Sea. And if you do want to explore, there are small villages and ancient ruins dotted along the coast which remain quiet through the season.
The crew have a busy schedule on board and thanks to everything being delivered to the gulet they also have minimal contact with others throughout the season. Private transfers can be arranged from the airport to your gulet so potentially you can spend a whole week and only come in close proximity to your transfer driver and 3 or 4 crew members on board. Needless to say hygiene is our top priority in preparation of gulets, as has always been the case. There will also be additional measures in line with the guidance.
The restorative effect of sun, sea and nature
The Turkish Riviera is lined with pine forests and olive groves which roll down gentle hills into crystal clear azure waters.  The beautiful nature in the region and the warmth of the Mediterranean sun, might well provide the restoration that we all need after this trying time.  On a gulet cruise holiday you spend most of your time in the outdoors, dining on deck surrounded by calm seas and relaxing in the sun – you can even sleep on deck under the stars!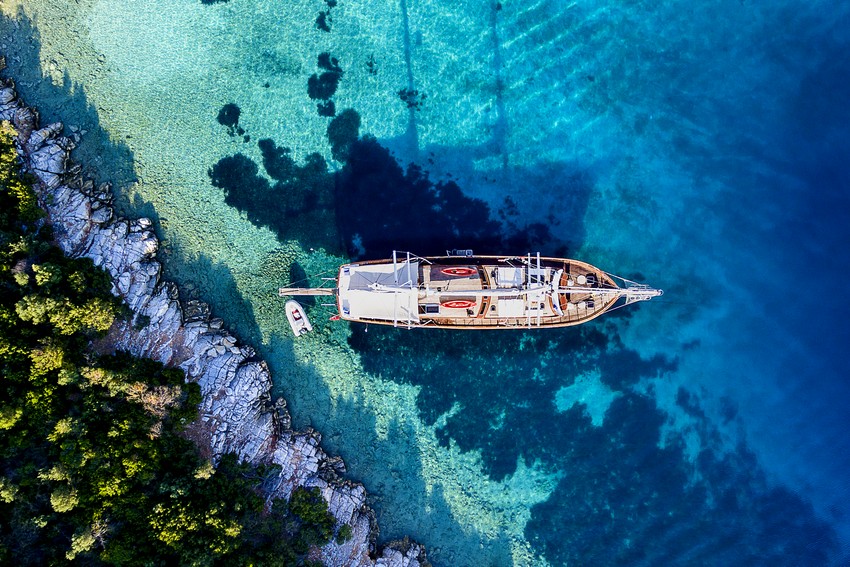 No queuing outside busy supermarkets
We'll arrange for your gulet to be fully stocked with your choice of food and drinks, and can arrange any other sundries you might need.  So you can go straight from the plane to your boat and set sail!
A break from the kitchen

After a prolonged period of self-catering and not being able dine out, what nicer than to have your own private chef to cook you top quality meals personalised to your taste.  We always get great feedback from our clients about the decadent Turkish breakfasts and freshly prepared delicious Mediterranean dishes served on board.  And your crew will wait on you throughout the holiday so you can sit back and relax.
You're never far from shore
Gulet holidays are secluded but not remote.  Most routes involve cruising along the beautiful natural coast, so should you need anything you'll always be able to access it quickly and easily.  The region is well used to catering to small cruise holidays, which have a long history in Turkey.  You even see floating "ice cream vans" in some bays.
No more YouTube fitness
Many of our boats are stocked with water-sports kit such as kayaks, water skis or paddleboards so you can stay active while exploring, also ideal for tiring out energetic children. And of course you're never more than a few metres from a refreshing swim in the temperate waters of the Mediterranean.  Snorkelling kit and flippers are provided on board, so you can the discover the sea life in the crystal clear waters, spotting all kinds of marine life, and, if you're lucky,  the green turtles which frequent the area.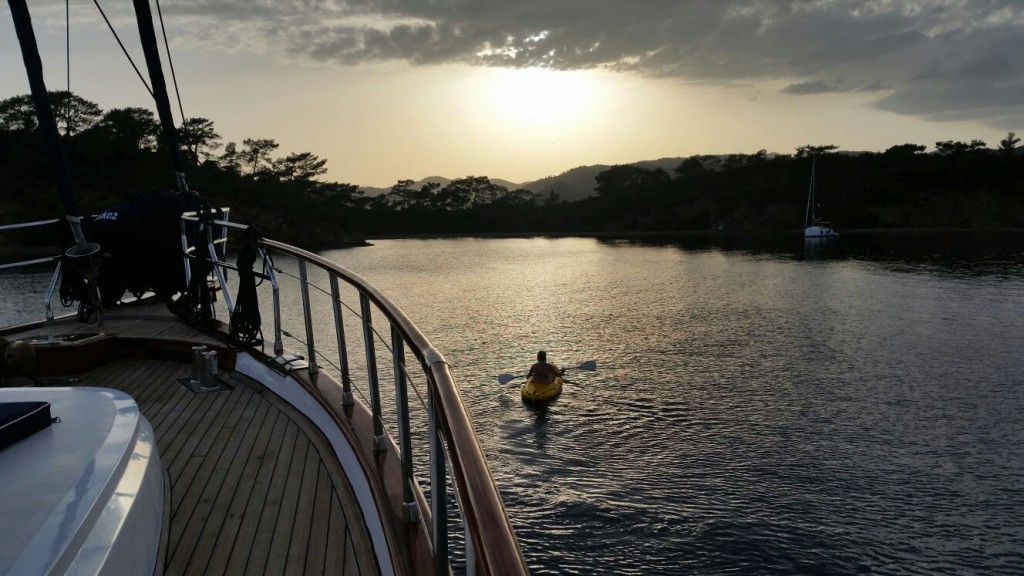 Some time to yourself
If you want a bit of me time you can have a nap in your cabin or on one of the sun loungers on front deck, read a book in stern with a cold drink, or paddle away from your gulet on a kayak and immerse yourself in the quietness of the nature. This season should be quieter than usual, which means even more space to enjoy.
It might cost less than you think
We're offering special rates and flexible payment terms on many of our gulets at the moment so this dream holiday might well be less than you think. We pride ourselves on the good service and quality we offer,  and our client feedback reflects this.  Get in touch for a quote and you'll be pleasantly surprised! If you have questions to ask we are only a phone call away. And don't worry, no automated lines.
Your payments are protected
As a a UK based company, we offer financial protection for your payments. one of the very few gulet charter companies to do so.