WHERE TO EAT IN BODRUM
Bodrum is a city with a thriving local culture as well as a large yearly influx of visitors from Turkey and abroad. As a result, it has a diverse and excellent selection of restaurants but also some real duds.  Here's a brief rundown or our favourite restaurants in Bodrum to help you avoid the tourist traps.
Small tip: If you're looking for Turkish food, there are two main types of restaurant. Either they serve a selection of meat dishes with salad, rice and bread (this is more like traditional home-cooked Turkish food). Or they serve fish and meze, which are small sharing dishes of hot or cold food. Plenty of other Turkish foods can be found at street stalls, fast food joints and cafes in the city.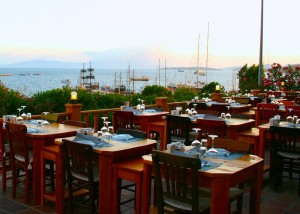 Seafood
Orfoz Restaurant, Zeki Muren Caddesi, No:13/1, Bodrum 48400
Choose from the mouth-watering selection of seafood available at this high-end and renowned restaurant. If you haven't tried octopus before, now is the time!
Spanish
La Pasion, Atatürk Caddesi, Uslu Sokak, No.8, Bodrum 48400
Beautifully prepared Spanish dishes served up in a charming courtyard setting. Muy bien!

Fish and Meze
Malades Restaurant, Neyzen Tevfik Caddesi, DanacI Sokak No.8/A, Bodrum 48400
Choose a selection of meze and graze over it to your heart's content.  If you want you can opt for some hot dishes and the fish here is particularly good.
Turkish (Budget)
Antik Akdeniz, Cevat Sakir No.53, Bodrum
Scrumptious Turkish food with a great selection of meat dishes and kebabs, pide (Turkish pizza), fresh salad and fresh bread. All prepared to perfection!
Pizza
Arka Restaurant & Pizzeria, Dr. Ekrem Uslu çıkmazı, No.11/1-5, Bodrum
Head here if you're looking for Italian pizza rather than Turkish pide. A great seleciton of pizza and pasta for a reasonable price.
Burgers
Ox Wine & Burger Bar, Cumhuriyet Caddesi, No:155, Bodrum
There are numerous styles of meat served in bread in Turkish cuisine but if you're in the mood for a good old-fashioned burger head to the Ox.
Breakfast
Pan Pan Kafe, Caferpaşa Caddesi, 1520 Sokak, No.33, Bodrum
Breakfast is a big deal in Turkey and this bakery does one of the best in town. The bread is fresh and the cheese, olives, jams and eggs are also superb.
Have we missed your favourite restaurant? Let us know in the comments or tweet @guletescapes.